Our Nano CBD is infused with a Honduran countryside, 100% Arabica beans grown in the moist air, rich soils, and tropical sunshine.  Creating synergy between caffeine and cannabinoid. Our Nano CBD Coffee has 10 times (10X) the bioavailability of oil based products.
Our Cannabidiol (CBD) infused coffee contains the highest quality, responsibly sourced coffee beans that are freshly blind-roasted and naturally infused with solvent-free, full spectrum NANO CBD extract.
The CBD infused coffee stems from roasting a Honduran-based coffee, combined with our proprietary NANO CBD. Our CBD Coffee contains bold coffee beans pharmaceutical-grade cannabidiol, and contains NO THC.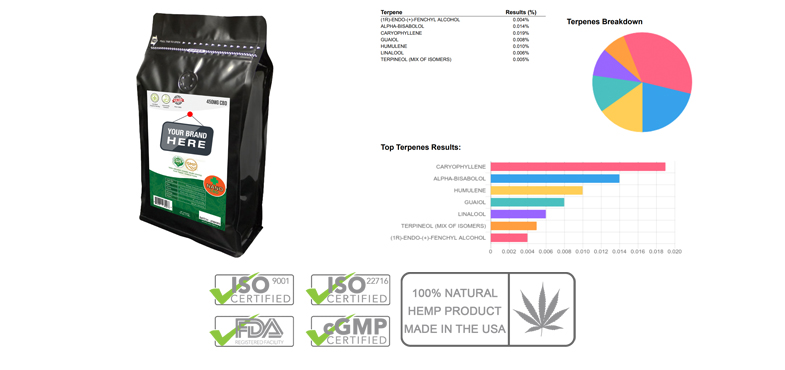 Nano Phytocannabinoid-Rich Hemp Extract (CBD) | Water Soluble
Up to 100% absorption | 10X Smart Nano-Transport System
450mg of Nano PCR (CBD) Cannabidiol per bag (16 oz)
Scientifically formulated in a BSL-1 level processing facility using Good Manufacturing Practice (GMP)
FDA-approved GRAS stabilizers
GMO-free | No artificial flavors, colors, or sweeteners
Disperses easily while brewing
100% Arabica Bean Coffee from Honduras (Macala Region)
Medium Dark | Very low acidic content
Non-blended for Maximum Flavor | Fair Trade Coffee | Single Sourced
Roasted in a Certified Organic Facility
Available White Label (Stock) or Private Label (Custom Label)
Total CBD Range: 450 mg
White Label Packaging: Stock Printed Labels (front and back) (included)
Private Label Packaging: Custom Printed labels (front and back)
Compatibility: Good for use with coffee makers that use ground coffee (course grade grind)
Shelf Life: 18 months unopened at room temperature
MSRP: $59.99 -$79.99 (450 mg)
White Label MOQ: 50 1 lb Bags
Private Label MOQ: 100 1 lb Bags
Request a Quote or more information