Want a tincture designed for maximum bioavailability and absorption? 
Our Nano CBD oil Tinctures, enhanced with Nano Terpenes along with Algae-DHA, will deliver a powerful end-result: measurable wellness. As a sublingual tincture, our Nano CBD oil Tinctures are perfect for providing you immediate results from CBD oil.
All varieties of our tincture products are now available in nanotized microemulsion versions for truly superior bioavailability.
When people think of our Nano CBD products, the words that comes to mind is "formulation innovation". Our Nano CBD oils, enhanced with Nano Terpenes along with Algae-DHA, will deliver a powerful end-results: measurable wellness. As a sublingual tincture, they are perfect for providing you immediate results from CBD oil.
With up to 100% absorption Nano CBD, this formula has been strategically designed to support everyday stresses, provide healthy recovery from exercise, and improve overall sense of well-being. With our Nano CBD Oils you can quickly target the CB1 and CB2 receptors in your bodies endocannabinoid system and begin to feel results within minutes!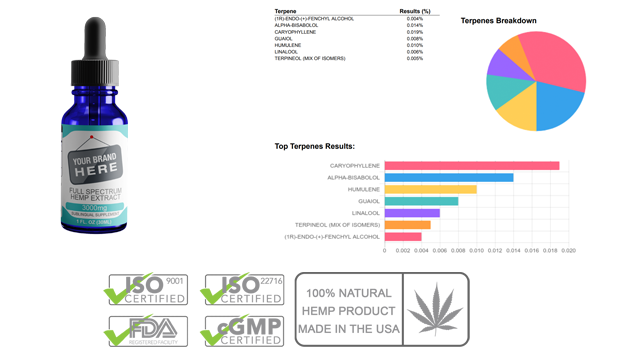 Standard Bottle: ​1 fl oz (30 mL)
Total Cannabinoid Range: ​​8.9% – 19.6%
(Based on 30 mL volume)
CBD Range: ​8.0% – 17.8%
THC Range: ​​0% / <0.3% THC
Decarbed: Yes.
Non-Decarbed: By request only
TRUE Full Spectrum: ​​Available
THC Free: Available
Standard Potencies: 150 mg / 250 mg / 500 mg / 1000 mg / 1500 mg / 2000 mg / 3000 mg
Custom Potency: Available option*
Appearance: Liquid
Consistency: Thin viscosity
COA: Available upon request
Bottle Color: Amber / Blue (based on availability)
Standard Carrier Oil: MCT Oil
Standard Flavors: Natural, Mint and Lemon
Packaging: Sold in 100 unit case packs
30 mL Bottle Label Dimensions: 4″ X 1.625″
White (No) Label Available: Yes, in 100 unit case packs
Private Label: Yes. Standard formula/flavors, MOQ 250 units
Shelf Life: 12 months unopened. Store in a cool, dark location
Active Ingredients:
Cannabidiol (CBD)
Cannabinol (CBN)
Cannabigerol (CBG)
Cannabichromene (CBC)
Cannabidiolic Acid (CBDA)
Tetrahydrocannabinol (d9 THC)
Tetrahydrocannabinolic Acid (THCa)
Naturally Present Terpenes
Microbial Analysis:
Total Aerobic Count < 2,000 cfu/g
Total Yeast and Mold < 200 cfu/g
E. Coli = Negative
Salmonella = Negative
Aflatoxins = Negative
Contaminant Analysis:
Heavy Metals: Not Detected (ND)
Lead: ND
Arsenic: ND
Residual Solvents: ND
Understanding NANO CBD:
Absorption and bioavailability are often used interchangeably, but they are very different. Absorption is the physical process of a substance passing through a barrier. Bioavailability is how much of the absorbed substance can actually get used. Like the old adage, "you can lead a horse to water, but you can't make him drink", absorption is only half the battle. Materials that are nanosized are naturally better absorbed, but not necessarily better utilized. To be utilized by living cells in your body, the substances that have been absorbed must be presented to the cells in the right way. Usually, this requires either a chemical change to the active molecules that the cells recognize as a signal to open up their entry gates, or a Trojan Horse approach. The first runs the risk of reducing the ability of the active molecule to be effective. The second is much preferred, and has a lot more flexibility. The Trojan horse can be decorated to preferentially target specific entry gates for a more targeted and elegant approach to CBD action.
Products that claim to be encapsulated in water, liposomal, micellar or protein/polysaccharide-coated are NOT the same as our NANO CBD products, and are different from each other. It is so important to choose the right formula for your specific application, whether topical, oral or sublingual, etc. The nano-sized packets of Cannabidiol and supporting synergistic compounds in the full-spectrum oil (terpenes, flavonoids, etc.) within our formulas are fully stabilized using a unique blend of edible GRAS (Generally Recognized As Safe) stabilizers and cellular signaling agents. Thanks to this proprietary formula, both absorption and bioavailability are increased up to 10-fold (aka. 10X). Another advantage of the encapsulation approach is that it is possible to create formulas which are water, oil, or water-based. Therefore if a client is interested in adding small amounts of additional ingredients on their own, they only need to choose the correct base for their application. The creative potential for formulators is unlimited.
How can I tell if its NANO CBD ?
Things which are nano-sized cannot be seen with your eye. They are simply too small so special tools are required. These tools include specialty microscopes and laser light scattering devices. These techniques permit you to acquire information about the nanoparticles in your CBD concentrates without having to add any chemicals or processing.
The microscopes used to see nano-sized objects don't use regular light, but rather beams of electrons. They are very expensive and have to be maintained in specialized facilities, operated by trained professionals. Their advantage is that they provide a picture of a single nanoparticle in your specimen. However, their disadvantage is that it is still hard to get a complete picture of all the nanoparticles in your specimen. In other words, the one you see might be perfect, but you have no idea what is happening with all the other particles. Laser light scattering tools can't provide a picture of 100% of the nanoparticles. But, they can deliver you information about what is happening with most of them, their average size, and how "clean" or "uniform" the size is.
There are many kinds of machines that use the laser light scattering method. Some have a small tube through which the specimen flows. Every time a nanoparticle passes through a viewing window, a little bit of the light is reflected. The bigger the particle the more light is reflected back, and the longer it can be seen in the viewing window. A computer algorithm then analyzes these bits of reflected light and reports the particle size. The flow through system is limited on what it can tell you about whether the nanoparticles are interacting with each other, since the force of the flowing liquid disrupts how they speak with one another.
A different kind of tool holds your nanoparticle-containing specimen in a small glass holder. The nanoparticles are free to move around as they like. If they like to stick to each other, they will; if they like to stay apart they are free to do that, too. If the nanoparticles become unstable, and start to fuse together into larger sizes, they will start to either fall to the bottom, or float to the top. In each case, the small blips of reflected laser light will have a unique pattern. This type of laser light scattering is called Dynamic Light Scattering because it can tell you in real time what the nanoparticles are doing – in addition to their average size.
Dynamic Light Scattering is a very useful scientific tool for developers of nanoparticle-containing products.  It helps developers understand when a formula is unstable and how to optimize formulas to halt the instability.  It can be used to either test the effects of salts, sugars or other additives that may be desired in a nanoparticle-containing product. There is a limit to all laser light scattering methods.  If the sample is too concentrated or colored then the laser light gets lost in the sample and no measurements are possible. So to get the information necessary, great care must be used in how the measurements are performed.
A TIME PROVEN PROCESS
Dynamic Light Scattering has been used for about 40 years. Scientifically, it is based on the Brownian motion of dispersed particles. When particles are dispersed in a liquid they move randomly in all directions. The relation between the speed the particles move and the particle size is given by the Stokes-Einstein equation. The equation includes the viscosity of the dispersant and the temperature because both parameters directly influence particle movement. A basic requirement is that the movement of the particles has to be random. If there is sedimentation or agglomeration, there is no random movement.
All our NANO CBD products have Dynamic Light Scattering reports to support our products specifications.
All Phytocannabinoid Rich full spectrum Hemp oil CBD is grown, produced, and packaged in the great states of Colorado, Oregon & North Carolina USA!
Feel the Difference! Our wholesale full spectrum hemp oil tinctures provide a full spectrum profile of  all cannabinoids and terpenes naturally found within the highest grade, naturally high CBD, medicinal cannabis strains.  Our full spectrum CBD oil tinctures contains a wide range of synergistic cannabinoids such as cannabigerol – CBG, cannabinol – CBN, cannabichromene – CBC, and less than .3% Tetrahydrocannabinol – THC.  For those people wanting absolutely zero THC, we have the most potent and powerful THC free CBD formulations in the world. Our "broad spectrum" hemp oils and "full spectrum" hemp oils provides a large amount of naturally present non-psychotropic cannabinoids and diverse synergistic terpenoids, including less than .3% THC.  Our ZERO THC hemp oils contain high amounts of CBD and ZERO THC, but are NOT full spectrum or PCR because they do not contain the secondary cannabinoids such as cannabigerol or CBG, cannabinol or CBN, cannabichromene or CBC, or Tetrahydrocannabinol or THC.
We can also customize your hemp CBD oil brand with any formulation of terpenes producing a wide variety of effects such as calm, relax, sleep, clarity, creativity, and energy.  In addition to terpenes, our flavor chemists can create virtually any flavor or taste profile using 100% natural and organic ingredients.
​Our Phytocannabinoid-Rich (PCR) Tincture products are created with hemp seed oil, grape seed oil, coconut oil (MCT), and can be designed with any of our CBD (PCR) rich cannabis oils.
Hemp Oils:
Pure PCR Hemp Oil (60-80% CBD, no THC)
Choice PCR Hemp Oil  (60-80% CBD, < 0.3% THC)
Standard PCR Hemp Oil (50-60% CBD, ~1% THC)
These products have various sub-lingual applications – flavor options include: peppermint, orange, lemon, and no flavor.
In all of our products, you can be assured of full traceability through complete vertical integration, non-GMO hemp cultivars, 100% legal sources, and the use of organic farming practices.
Standard sizes for tinctures are 250mg | 500mg | 1000mg | 1500mg
250 mg – 1 dropper =   8-10mg
500 mg – 1 dropper =   16-20 mg
1000 mg – 1 dropper =  36-40 mg
1500 mg – 1 dropper =  56 -60mg
CBD Tinctures White Label Program
No (Label) Minimum: 100 bottles
Private Label Minimum: 500 bottles
For Custom Orders Please Contact Us on form below
Request a Quote or more information
[contact-form-7 id="1618″]