A
TRUE Wholesale Full Spectrum Hemp Phytocannabinoid-Rich (PCR)
hemp oil distillate tincture with less than .3% THC.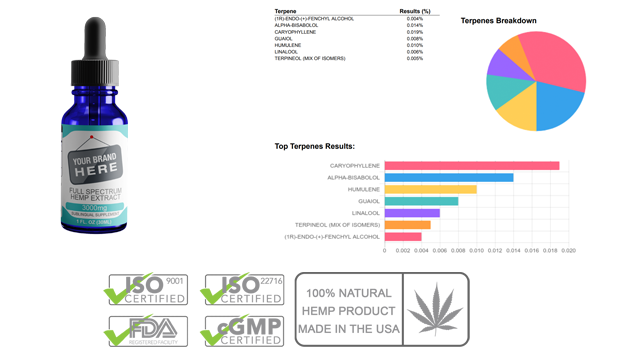 Standard Bottle: 1 fl oz (30 mL)
Total Cannabinoid Range: 8.9% – 35.7%
(Based on 30 mL volume)
CBD Range: 0.0080% – 0.0321%
THC Range: 0.1%-0.3% THC
Decarbed: Yes.
Non-Decarbed: By request only
TRUE Full Spectrum: Yes
Broad Spectrum: Available option*
Standard Potencies: 250 mg / 500 mg / 1000 mg / 1500 mg / 2000 mg / 3000 mg
Custom Potency: Available option*
Color: Clear with tint
Appearance: Liquid
Consistency: Thin viscosity
COA: Available upon request
Bottle Color: Amber / Blue (based on availability)
Standard Carrier Oil: MCT Oil
Standard Flavors: Natural, Mint and Lemon
Packaging: Sold in 100 unit case packs
30 mL Bottle Label Dimensions: 4″ X 1.625″
White (No) Label Available: Yes, in 100 unit case packs
Private Label: Yes. Standard formula/flavors, MOQ 250 units
Shelf Life: 12 months unopened. Store in a cool,
dark location
Active Ingredients:
Cannabidiol (CBD)
Cannabinol (CBN)
Cannabigerol (CBG)
Cannabichromene (CBC)
Cannabidiolic Acid (CBDA)
Tetrahydrocannabinol (d9 THC)
Tetrahydrocannabinolic Acid (THCa)
Naturally Present Terpenes
Microbial Analysis:
Total Aerobic Count < 2,000 cfu/g
Total Yeast and Mold < 200 cfu/g
E. Coli = Negative
Salmonella = Negative
Aflatoxins = Negative
Contaminant Analysis:
Heavy Metals: Not Detected (ND)
Lead: ND
Arsenic: ND
Residual Solvents: ND
All Phytocannabinoid Rich full spectrum Hemp oil CBD is grown, produced, and packaged in the great states of Colorado, Oregon & North Carolina USA!
Feel the Difference! Our wholesale full spectrum hemp oil tinctures provide a full spectrum profile of  all cannabinoids and terpenes naturally found within the highest grade, naturally high CBD, medicinal cannabis strains.  Our full spectrum CBD oil tinctures contains a wide range of synergistic cannabinoids such as cannabigerol – CBG, cannabinol – CBN, cannabichromene – CBC, and less than .3% Tetrahydrocannabinol – THC.  For those people wanting absolutely zero THC, we have the most potent and powerful THC free CBD formulations in the world. Our "broad spectrum" hemp oils and "full spectrum" hemp oils provides a large amount of naturally present non-psychotropic cannabinoids and diverse synergistic terpenoids, including less than .3% THC.  Our ZERO THC hemp oils contain high amounts of CBD and ZERO THC, but are NOT full spectrum or PCR because they do not contain the secondary cannabinoids such as cannabigerol or CBG, cannabinol or CBN, cannabichromene or CBC, or Tetrahydrocannabinol or THC.
We can also customize your hemp CBD oil brand with any formulation of terpenes producing a wide variety of effects such as calm, relax, sleep, clarity, creativity, and energy.  In addition to terpenes, our flavor chemists can create virtually any flavor or taste profile using 100% natural and organic ingredients.
​Our Phytocannabinoid-Rich (PCR) Tincture products are created with hemp seed oil, grape seed oil, coconut oil (MCT), and can be designed with any of our CBD (PCR) rich cannabis oils.
Hemp Oils:
Pure PCR Hemp Oil (60-80% CBD, no THC)
Choice PCR Hemp Oil  (60-80% CBD, < 0.3% THC)
Standard PCR Hemp Oil (50-60% CBD, ~1% THC)
These products have various sub-lingual applications – flavor options include: peppermint, orange, lemon, and no flavor.
In all of our products, you can be assured of full traceability through complete vertical integration, non-GMO hemp cultivars, 100% legal sources, and the use of organic farming practices.
Standard sizes for tinctures are 250mg | 500mg | 1000mg | 1500mg
250 mg – 1 dropper =   8-10mg
500 mg – 1 dropper =   16-20 mg
1000 mg – 1 dropper =  36-40 mg
1500 mg – 1 dropper =  56 -60mg
CBD Tinctures White Label Program
No (Label) Minimum: 100 bottles
Private Label Minimum: 500 bottles
For Custom Orders Please Contact Us on form below
Request a Quote or more information
[contact-form-7 id="1618″]